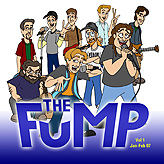 Like funny music, novelty songs and parodies? Check out The FuMP, The Funny Music Project. They post a new, hilarious song every few days and to catch up you can check out their archives.
I heard of this site from the CNET Buzz Out Loud podcast who mentioned the song Dead Nintendo by Possible Oscar on yesterdays podcast. I think my current favorite would have to be She's Underage by Seamonkey.
If you want to get their picks as they come out you can even use their rss feed with the software of your choice. It's like a little taste of Dr. Demento every few days.
parody, music, filk, humor, funny, hilarious, silly, strange, songs, free music